GAME YOUR WAY

Game your way with a compact and easy to carry chassis. Nightblade Series are Gaming PCs with high performance components built into a sleek and compact body with unlimited possibilities. An easy carry-handle is situated at the front of the chassis, making it easier for gamers to bring their rig to any place they want. Easy to upgrade, the Nightblade Series are built to play today's games with future upgrades in mind.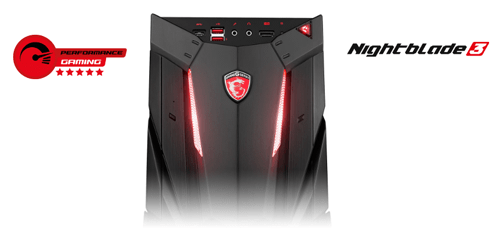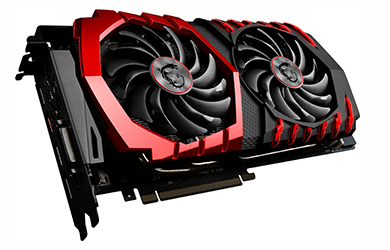 REAL GAMING GRAPHICS

Armed with MSI's award-winning GAMING Graphics Card instead of a standard reference card, you'll enjoy the best in game performance while the supreme TWIN FROZR VI cooler keeps your graphics card cool and quiet. Welcome to a True Gaming PC!
MYSTIC LIGHT

Customize your Gaming Desktop with Mystic Light. Make your build look on fire or cold as ice. You are in control. You can select any of the colors from the palette to match your system's design, and plenty of LED effects to choose from.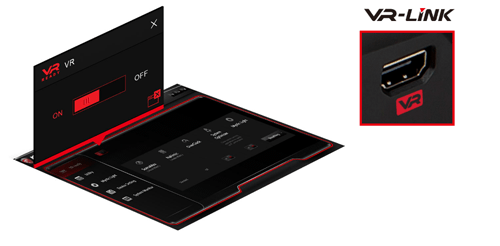 PULL YOURSELF INTO THE GAME WITH VR LINK

When using an expensive VR headset, you'll want it to have the best signal to and from your PC. MSI made it super easy to connect your VR headset by implementing VR Link, an HDMI-port on the front side of the system to connect your VR headset. This is supported by MSI's 'One-Click-to-VR' software that automatically sets the entire system in its optimal VR settings.
SILENT STORM COOLING

To ensure outstanding performance, MSI Gaming Desktops are equipped with an exclusive and powerful cooling system called Silent Storm Cooling. Utilizing separate chambers that individually handle the cooling of different components within the system, Silent Storm Cooling design makes sure the system's temperature stays perfectly under control for a cool and silent system.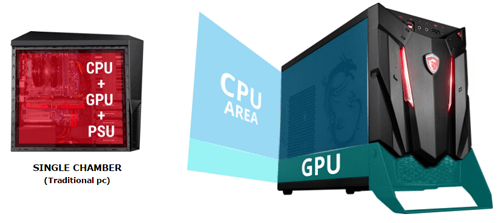 EASY TO CARRY

Going to a LAN-party, visiting a friend or just feel like taking your Gaming Desktop anywhere you go? A sturdy handle is built into the case to simply pick up and carry this Gaming beast around from one Gaming den to the next.
A SMALL BUT POWERFUL GAMING RIG

MSI Nightblade has all the components of a 'normal' desktop PC but in a small and compact case.